↠
Network Magazine Autumn 2020
Network Magazine Autumn 2020
Positive Partnerships
Fife, Scotland, encompasses a number of idyllic fishing harbours. Here the fishing fraternity harvest prawns,
lobsters, crabs, scallops, and razor clams from sapphire blue seas. Like many scenic coastal towns, they look charming but poverty and unemployment lie hidden behind the quaint seafronts.
Dealing with such challenges requires key local partnerships with other organisations like the East Neuk Foodbank.  Throughout the Covid-19 pandemic, they have supported individuals and families with food, often delivering necessary supplies.
You walk with us forever.
Fisherman Pete Mosley, 37, from Withernsea, East Yorkshire, was lost at sea last summer. One year on, Peter's partner, Gemma, shares with us the heart-breaking pain of her loss.
A Big Thank You!
The Covid-19 pandemic has had a devastating effect on some of our fishermen and their families. The Fishermen's Mission's response has been incredible…
■ Over £250,000 given out in emergency grants to fishermen in need
■ Many hundreds of welfare interactions with clients
■ Fears calmed, hope restored, lives changed. We could not do this without you, our wonderful supporters. Thank you from every fisherman, every fishing family, and from us all at the Fishermen's Mission.
Calendar Gills
Our 2021 Fishermen's Mission Calendar is so much more than just pretty pictures and dates! Each month features a unique and bespoke piece of art that corresponds with the fish used in each of the seafood recipes supplied by our celebrity chef supporters including Nathan Outlaw and Tom Brown. Visit www.fishmishmarket.org.uk or use the enclosed flyer to get the most inspiring 2021 calendar available!
You can also purchase Christmas cards here.
---
If you would like to receive a copy of the Network Appeal, please fill in your details below and we will add you to the Network distribution list.
---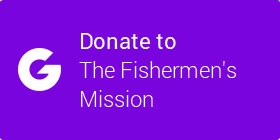 The Fishermen's Mission takes care of the families of men lost at sea. But we need your help if we are to continue to offer bereaved families the financial and emotional support they need.