Here at the Fishermen's Mission we encourage our staff and volunteers to use all their many talents in their day to day work with our beneficiaries. While we are a relatively small team (around 60), we do have some very wide-ranging skills to hand and in this issue's Summer Network we find out some unique talents.
In this Issue of our Summer Network:
 – We meet our man in Aberdeen Superintendent Kenny Brandie who is an interior design specialist.
–  Retired fishermen know who to call when in need.
– We mark the 50th anniversary of the Triple Trawler Tragedy and look to the future in Hull.
– Claire dives in to help a fisherman with his net
– There was a Whitby Scampi invasion in Cromer by the Fishermen's Mission.
Read the full Network magazine by clicking here
Our man for all seasons
Kenny has been in post for a year and has made it his mission to meet as many fishing families as possible. Serving in the fishing communities of Aberdeen to Fife this ex-fisherman is passionate about providing whatever support is needed whether practical, spiritual or financial. Sometimes that can take a man out of his comfort zone.
Team North Shields
In a working life spent riding treacherous seas it's fair to say fishermen are used to getting wet. However, getting soaked at home when water pours through your ceiling due to a faulty boiler is a different matter completely! Especially during the depths of one of the coldest winters for many years when heating and hot water are essential.
Hull Remembers… and looks to the future
To mark the 50th anniversary of the Triple Trawler Tragedy a Memorial Service was held at Hull Minster. 650 people gathered to reflect and remember together. Many felt comforted by the service and the opportunity to have an affinity with other families.
Claire loves her network
Fishermen's Mission Port Officers are versatile people, keen to turn their hand to anything and everything. On a regular tour of the harbour at Eyemouth, Superintendent Claire Mcintosh came across a fisherman with a hole in his net.
---
If you would like to receive a copy of the Network Appeal, please fill in your details below and we will add you to the Network distribution list.
---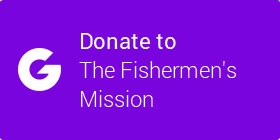 The Fishermen's Mission takes care of the families of men lost at sea. But we need your help if we are to continue to offer bereaved families the financial and emotional support they need.