The Effects of COVID-19 and How We've Adapted During Lockdown
Not only does Coronavirus affect fishermen due in a number of ways, from a reduction in market prices to the limited ability to go out to sea or meet with buyers, but this has come at a time when fishermen have already faced a long
harsh winter with very little work due to the stormy weather we've had this year. Fishermen's Mission staff have
been adjusting to working from home.  Peterhead Superintendent Sandy Garvock has even fashioned a desk from an Ironing board!
A Letter From Our Business Director Alison Godfrey
In her letter in this edition of the Network, Alison writes:
Coronavirus Stories: Never Truly Socially Distant
The Fishermen's Mission Brixham Superintendent, Helen Lovell, explains:
Robert, a fisherman from Port Seton, tells us how the Coronavirus has affected his family:
Shetland Senior Superintendent Aubrey Jamieson serves a community with hundreds of active and retired fishermen and a huge culture of seafaring. He recalls:
Parcels of Kindness
Showing someone they are thought of can make a huge difference to their week. Fishermen's Mission Lowestoft Senior Superintendent Tim Jenkins joined with new and existing SeaFit partners to deliver 380 Parcels of Kindness to active and retired fishermen in lockdown. Read more>>
Other Stories
Paul, skipper of a prawn trawler in Troon. Paul lives with his wife, Hayley, and their two daughters, Daisy & Luna,
wanted to say a special thank you to the Royal Merchant Navy Education Foundation for supplying a new laptop to help with home schooling.
We are going up in the world! The Fishermen's Mission charity shop in Helston, Cornwall, is getting bigger and better!
---
If you would like to receive a copy of the Network Appeal, please fill in your details below and we will add you to the Network distribution list.
---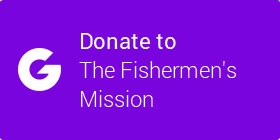 The Fishermen's Mission takes care of the families of men lost at sea. But we need your help if we are to continue to offer bereaved families the financial and emotional support they need.